We support an inclusive culture that welcomes different viewpoints, backgrounds, and experiences. Building a diverse workforce helps us unlock value to make a big difference in the world.
At Bala, the work you do today has real-world impact for the future of our planet. Joining our team means being empowered to do inspiring work, in an environment that supports growth and development.
Eligible employees receive a generous benefits package that is designed to support their overall well-being, and includes:
Insurance - Medical, Dental and Vision
Volunteer Time Off
Student Loan Assistance
401(k) Plan
Flexible Benefit Program
Section 529 Plan (College Saving Plan)
Paid Time Off
Holidays
Tuition Reimbursement
Membership and Professional Engineering License Fees
Life Insurance
Short- and Long-Term Disability
Successful careers are based on collaboration, leadership and education.
Bala's Employee Experience focuses on:
Professional Development - we never stop learning
Leadership Guidance - our leaders are here to serve
Personal Development - be your best self
Social Engagement - we like to have fun
Community Outreach - contribute to the common good
Internships
The promise of tomorrow involves nurturing the next generation of industry professionals.
Sustaining people through design requires next-generation passion and commitment. Our mission relies on identifying and mentoring exceptional talent and future leaders within the industry. To grow and develop the next wave of industry professionals, we maintain an active internship program that runs throughout the year, attracting top students from leading engineering educational institutions. We draw our intern talent from collegiate career fairs, and invite candidates who are interested in our internship program to connect with us at these events.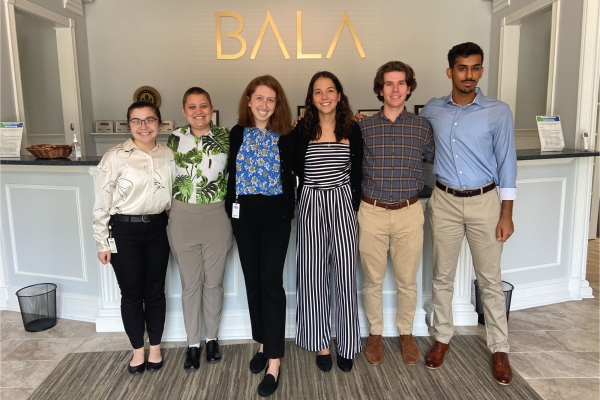 Diversity, Equity, Inclusion (DEI)
A diverse team makes our company and the designs we create stronger and more inclusive.
Creating a diverse and inclusive environment is an ongoing priority at Bala. We provide education on many DEI topics for all team members so we can learn and grow together. Employees can connect with members and allies of their communities through multiple internal employee resource groups (ERG). These efforts are part of an ongoing process to improve our commitment to all of our employees and corporate social responsibility every day.