Bala has made it a priority to support the architectural team in achieving this mix of the past and present. So far with the first two buildings, Bala has worked through several design challenges while creating an interactive space for the tenants and pedestrians alike.
At the East end of the mill lies Building A, a 96,000 sq. ft three story laboratory and office space developed in collaboration with Carnegie Mellon University.  This building contains a two story open high bay space for advanced manufacturing design complete with a 10 Ton capacity Reading overhead crane.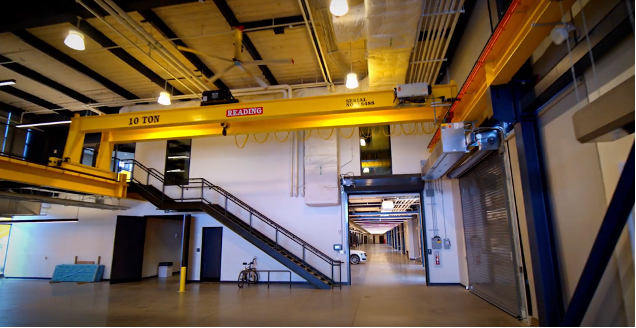 High tolerances for slab on grade floor flatness and floor levelness (FF and FL) requirements were met by using a reinforced concrete slab on top of the improved building pad.  Surrounding the main building, various elevated walkways connect the main building to the existing steel mill to provide egress stairs to grade, balconies to view downtown Pittsburgh, and to experience up close the many facets of the existing building and cranes.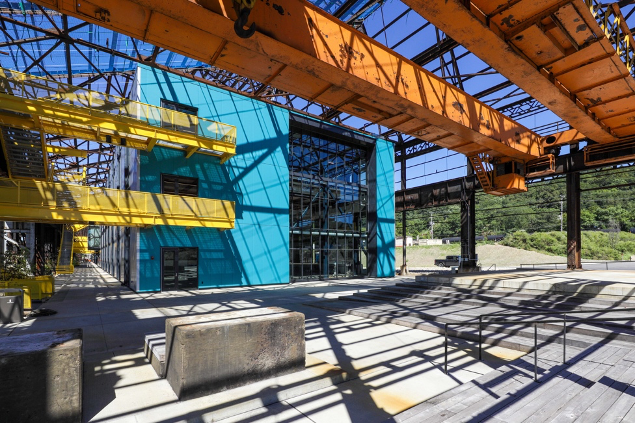 Photo: Turner Construction
The center of the mill contains Building B, another three story, 60,000 sq. ft steel building constructed within and beneath the original mill structure.  This structure is composed of an efficient composite steel frame for the second level to provide higher floor heights for the research occurring on the ground floor.  Levels 2 and 3 contain a stacked floor structure to permit the ducts, sprinklers, and electrical distribution to be as high as possible in the space.  A spiraling central stair provides building occupants various views of the mill structure as it partially cantilevers past the façade of the main building.

Photo: ten x ten
One particular consideration on both buildings in the campus was the need to have structural elements penetrate the exterior wall system as they extended out to create these walkways and exterior experiences.  Bala utilized composite thermal breaks for each exterior walkway/stair to separate them from the new building as they extended outside to the existing mill structure. The Fabreeka Thermal Insulation Material maintains the structural integrity of the break connection but minimizes thermal energy transfer in the building envelope. Therefore, the thermal behavior of the exterior walkways and stairs will not be passed on through to the tenant space within the building.

Photo: Scalo Solar Solutions
The roof of Mill 19 was outfitted with 4,968 silicon solar panels that powers the entire facility.  The installation is largest single sloped solar array installation in the United States! Each panel weighs between 3-4lbs/sf and together will generate about 2.5 Megawatts, which is enough to power 264 homes.
What will happen in Mill 19 will forever change this world, and Bala is proud to have a part in the rebirth of Pittsburgh as a technologically innovative hub.  One might say it's a perfect juxtaposition from steel to technology and we are excited to see this 77 year steel building continue its journey making a difference in this world.